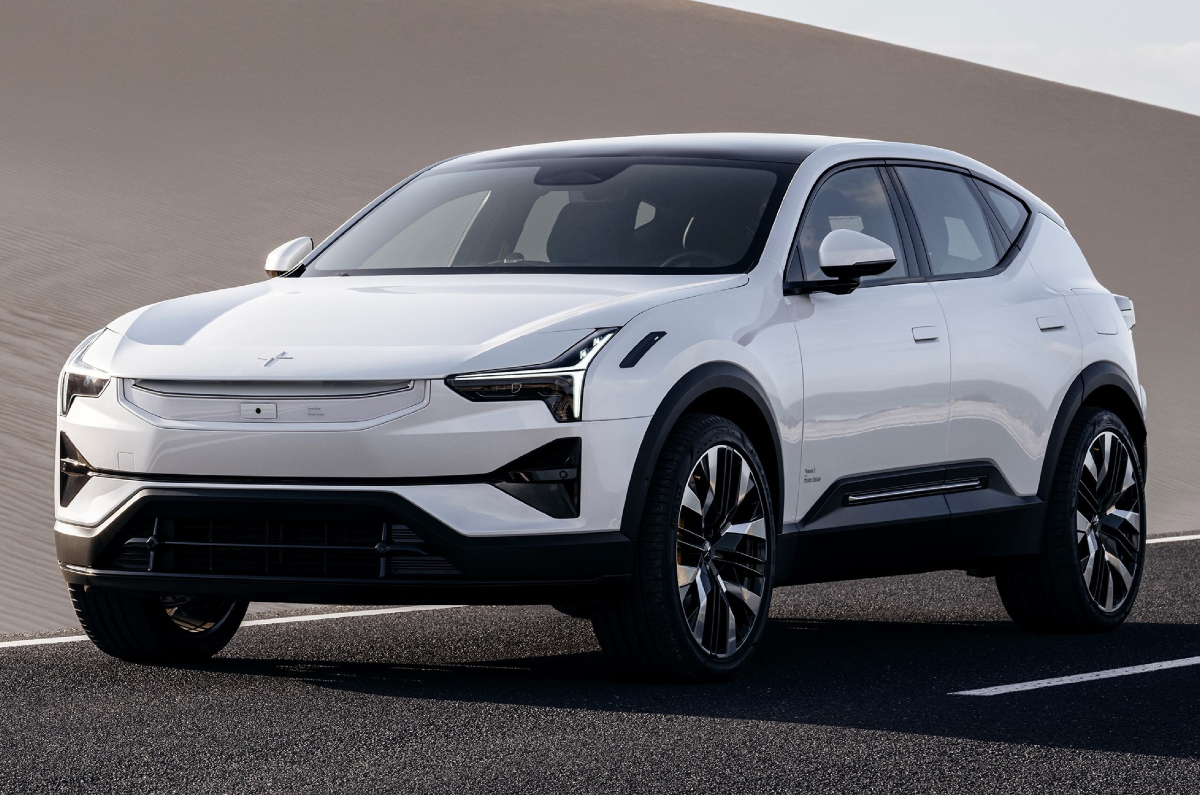 Polestar has unveiled its second series-production model – the Polestar 3 electric SUV. The EV will be powered by dual electric motors producing up to 517hp and 910Nm, combined. Polestar claims that the extensive use of sustainable materials has made the 3 SUV "more relevant and responsible."
Polestar 3 is designed from scratch; 1 and 2 were Volvo concepts
Performance pack boosts power by 28hp and 70Nm
Gets a 14.5-inch touchscreen based on Polestar's Android-based OS
Polestar 3: platform and powertrain
Based on Volvo's new SPA2 platform, the Polestar 3 will effectively be a twin of the upcoming Volvo EX90 SUV, using much of the same underpinnings and systems. While Polestar 1 and 2 were based on Volvo's concepts, the 3 has been designed and conceptualised by Polestar from scratch.
The Polestar 3 will launch with a dual-motor powertrain, which will produce a combined output of 489hp and 840Nm in standard form. The carmaker claims the EV SUV has a rear-biased all-wheel drive system, where more power is sent to the rear wheels. It will be capable of sprinting from 0-100kph in a claimed 5.0 seconds and achieve a claimed top speed of 210kph.
With the performance pack, power outputs will be bumped up to 517hp and 910Nm, combined, and 0-100kph time drops to 4.7 seconds (claimed). With a battery capacity of 111kWh, the Polestar 3 has a WLTP claimed range of up to 620km and a peak charging rate of 250kW.
To ensure that a large SUV can offer what Polestar chief chassis engineer Joakim Rydholm called "the performance and precision that define all Polestar cars", the 3 features dual-chamber adaptive air suspension, which can be electronically adjusted every two milliseconds. There are also 400mm Brembo four-piston brakes at the front.
The 3 also features a torque-vectoring dual-clutch function on the rear axle, where the rear motor can be automatically decoupled. This will allow the car to run on the front motor only under certain circumstances to save energy. There's also an adjustable one-pedal driving option.
Polestar 3: features
The Polestar 3 has a bunch of new infotainment and safety technology. It uses a new Nvidia Drive core computer that serves as an 'AI brain' to process data from the raft of sensors mounted to the car. There are five radar modules, five external cameras and 12 external ultrasonic sensors, which use Volvo's latest safety software.
An optional Pilot Pack with Lidar will be offered next year, and that would add an additional Nvidia control unit, three cameras and four ultrasonic sensors. It will also be enabled with enhanced 3D-scanning of the car's surroundings to offer more accurate real-time data.
Polestar claims Volvo's interior radar tech can detect sub-millimetre movements in the interior to warn against leaving children or pets inside, which then links to the climate control to prevent heat stroke or hypothermia. There are also two closed-loop driver-monitoring cameras that can give audio warnings or even stop the car automatically if they detect that the driver is distracted or drowsy.
The 3 also gets a 14.5-inch touchscreen system that runs a development of Polestar's Android-based OS and will allow for over-the-air updates.
Polestar 3: exterior design
The electric SUV features Volvo and Polestar's trademark LED daytime running lights at the front. Over to the side, it features 21-inch alloy wheels as standard (22-inch are an option), retractable door handles and a sloping roofline, which gets a panoramic sunroof. At the rear, the Polestar 3 features C-shaped tail-lamps and an LED light bar.
Also see:
New Polestar O2 high-performance electric roadster concept unveiled
from Autocar Indiahttps://cdni.autocarindia.com/ExtraImages/20221013012101_Polestar%203.jpg