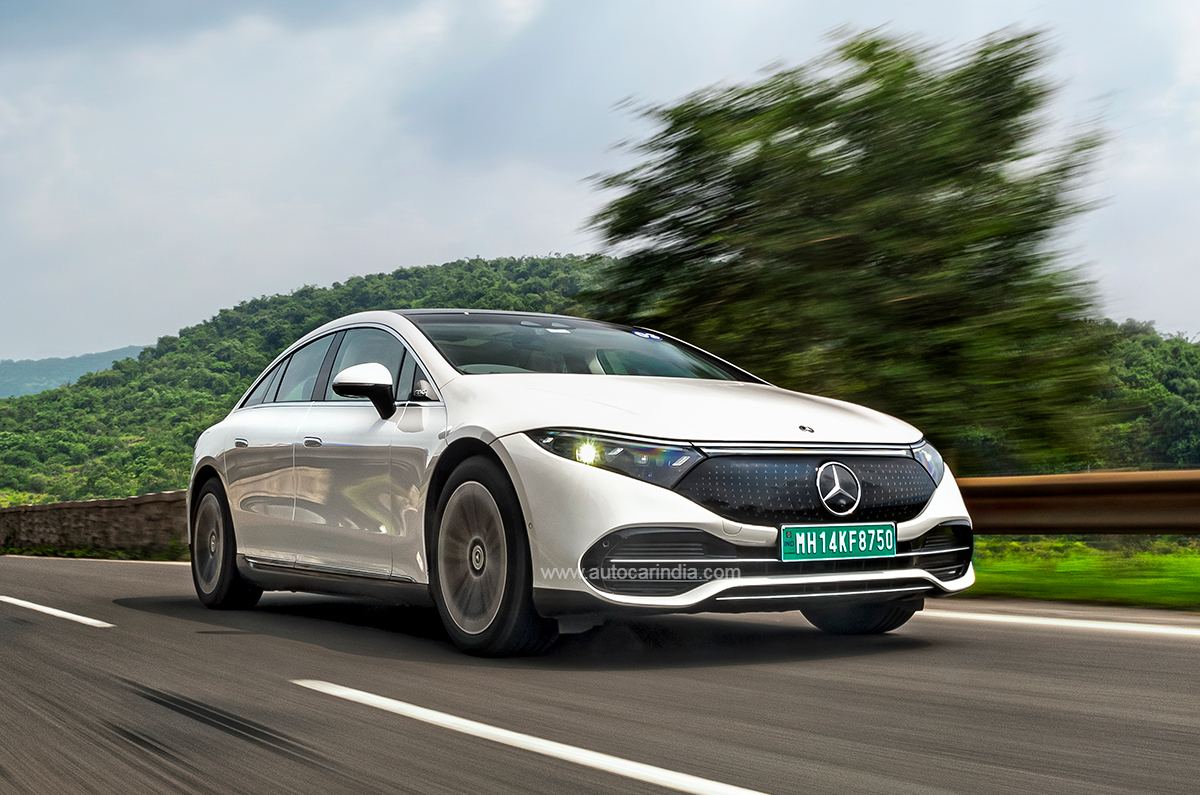 Mercedes Benz, the company that invented the motor car, is in the process of reinventing itself. To see this change in motion, look no further than the EQS, the company's first born-electric luxury sedan. Built from a clean sheet of paper, with no space set aside for an engine, gearbox, fuel tank or even a traditional radiator, this is the first Mercedes to move drastically away from the template set by the 1902 Mercedes Simplex.
The EQS also comes with other firsts. It is the first all-electric Mercedes to be assembled in India, the first EQS to be assembled outside Germany and, importantly, the first EV to get Mercedes' 'S', or Sonder tag. But 'firsts' apart, just how well suited is EQS to our conditions here in India? How well does it work as a luxury car for Indian car buyers? And should you buy one instead of an S-Class?
Mercedes-Benz EQS 580 4Matic: design
The EQS is built on Mercedes' born-electric EVA2 architecture. Designed to be as aerodynamically efficient as possible, the monovolume shape, with its short, tucked-in bonnet, low-slung roof and tapering rear, looks more CLS than three-box S-Class. All the investment in aerodynamics has paid off because the EQS has a record-breaking drag coefficient of 0.20Cd, the best of any car in production.
Along with the slippery profile comes a new stylesheet. The faux grille with the central star is carried over from other EQ cars, but here you get high-tech anti-dazzle headlights that get 1.3 million pixels per headlamp and a grille area that lights up with tiny stars in the dark. As can be seen from the profile, the car is extremely long and built on a substantial wheelbase. How big? Stretching the tape at 5.2-metre long, the EQS has a 3.2-metre long wheelbase; so, it's huge.
Large 20-inch wheels support the profile nicely and to keep drag to a minimum, the body is hunkered down on its wheels. Door handles that disappear into the body help keep the shape slippery, and the sealed bonnet means there's a pop out flap on the fender where you can fill washer fluid.
In an effort to give the car some muscle, the haunches are subtly fleshed out; and what's also stylistically interesting is that in profile, the roofline stretches from the front windscreen to the rear in one clean arc, the rear section meeting the shoulder line at an extremely acute angle. Mercedes calls this its 'one bow' design, and it truly looks like a large bow.
The long wheelbase means the EQS also gets rear-wheel steering. It isn't any old rear-wheel steering system, the wheels here move by a huge 10 degrees, so on tight turns, you can easily see the rear wheels steer. The first 500 EQSs sold here will get the system for free.
The design of the rear is a bit innocuous, but what is interesting is that the 610-litre boot is accessed by a hatch, not a traditional boot lid. Still, when you lift the lid, there's no spare tyre; no not even a space saver. Will Merc supply one?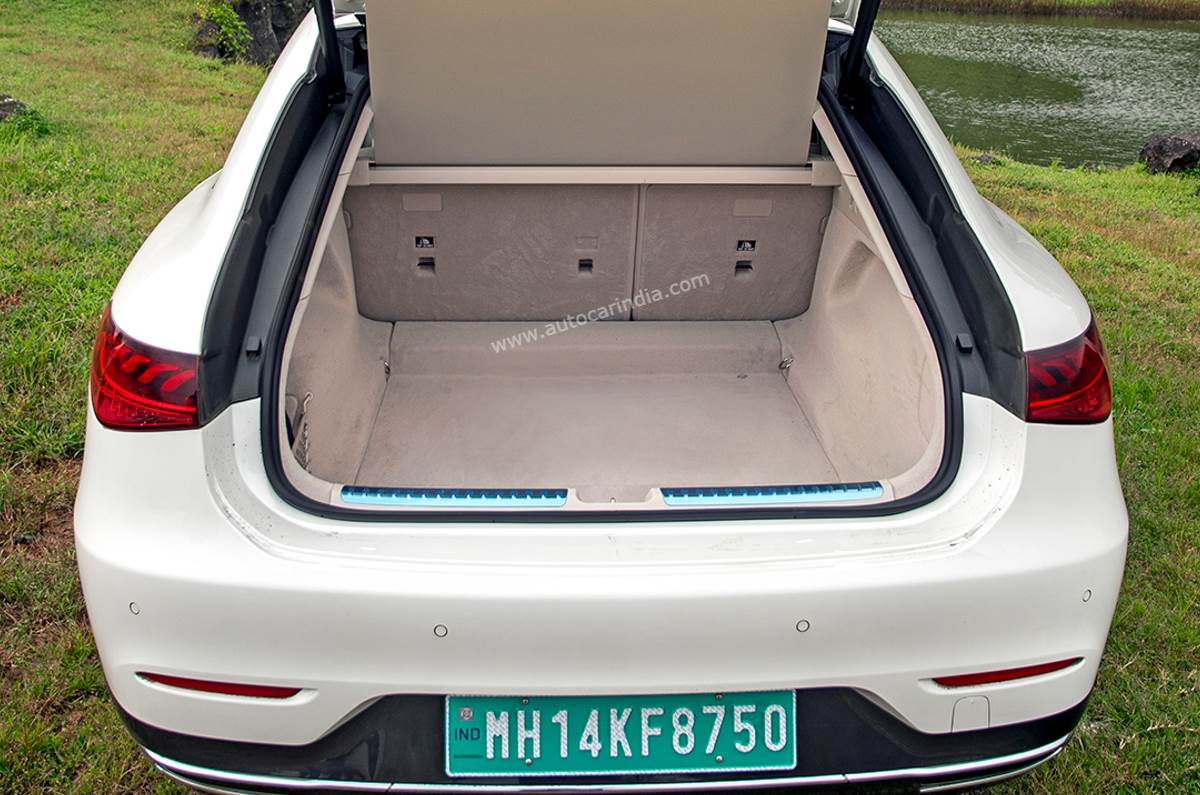 Sitting between the wheels is also the record-breaking 107.8kWh battery pack that can uniquely either be made by using pouch type or cylindrical batteries. Weighing in at 708kg, the battery gives the EQS a lab-tested range of 857km under ARAI test conditions. Range anxiety? Ahh, forget it.
When it comes to powering the EQS, this version gets a pair of permanent magnet synchronous motors, one over each axle that put out a combined 523hp and 855Nm. You'll need all that torque; the kerb weight stands at 2.6 tons, and a lot of metal, rubber, leather and batteries to move.
Mercedes-Benz EQS 580 4Matic: performance, drive, handling
The EQS tells you it's a Merc right off the bat. It does this in several ways. Initially, it's the tomb-like silence that gets my attention; only more so here. The hush even when we move is palpable. Like many Mercs with an S in the name, it feels like you are being driven along, with a pair of earmuffs damping the sound. The EQS also gets active noise compensation via the Burmester audio system – it decides if an interfering noise is present and then works to cancel out the sound.
Also silent, superbly damped and supple is the ride. The multi-chamber airmatic plus suspension and the dampers that are individually and automatically adjusted help give the EQS a supple but superbly controlled ride. The EQS simply glides over even our broken and damaged roads, with no bobbing or shifting of weight experienced, even on badly rutted sections. And what I find particularly impressive is the manner in which the car lowers itself off a speed breaker without even the slightest secondary reaction or bob. Mercedes says damping forces and spring loads are individually calculated for each wheel.
Merc even serves up an extra helping of acoustic refinement even when I tap the accelerator a bit harder. There's no typical electric motor whirr or grumble, and what enhances the experience is that the throttle is superbly metered and delivers just the right amount of effortless torque.
The e-motors are also capable of dishing out a fat stream of torque. In Comfort, this takes place in a measured and relatively jolt-free manner. Driving along in this mode feels like you have a hulking big V8 under your right foot, with the mute button engaged. Sport, however, adds more urgency and a bit more violence. It's here that the EQS feels quite different from a regular Mercedes. Put your foot down and the EQS will shove you hard in the back, and kick the throttle and it will feel like someone's hit the back of your seat with a sledgehammer. Flat out, performance for a car this heavy, as a result, is impressive. It will sprint from 0-100 kph in 4.3 seconds and, should you want, you can add a 'spacey' EV-like 'exhaust' note to it. Have to say, it is only interesting over short stretches. Better to revel in the silence of the cabin.
For a car this heavy, the EQS also feels reasonably agile. Yes, there is a measure of stodginess, and it doesn't quite dart into corners, but it also has huge grip aided by the 4Matic four-wheel drive and feels decidedly sportier to drive than a regular long wheelbase S Class or an E Class. A lot of this has to do with the rear wheel steering and torque vectoring used to sharpen responses in corners. What the 10-degree rear wheel steering also allows you to do is turn on a dime; the EQS incredibly feels like it has the turning radius of a hatchback and getting in and out of tight places is surprisingly effortless.
What isn't effortless, however, is negotiating speed breakers. While smaller examples can be driven over if you are careful, the 124mm ground clearance and long wheelbase need help when it comes to larger ones. You do get a 15mm lift function, and the system is quicker to raise the car compared to earlier cars.
Still, this means you need to wait a bit before you clamber over a speed breaker, and this can be a bit of a pain. Also, if you are not careful or slow enough, you can scrape the belly and battery pack of the car on larger speed breakers. What does help is that the EQS can geo-tag speed brakes and use the lift function automatically the next time you drive that way; a neat trick, especially if you encounter several speed breakers on your daily commute.
Also, while the brakes worked well enough in combination with medium and high levels of regenerative braking, they struggle to reign in the weight of the car when zero regen is selected. You need much more pedal effort in this mode, and at times that catches you by surprise. So driving in this mode is best avoided. Driving in single pedal mode, with the regenerative braking set at max is pretty relaxing in traffic, especially once you get used to the extra drag you get as you lift off.
What you also need to do every time you get behind the wheel is disable the Active Brake Assist, a collision avoidance feature, that is too aggressively set up for our traffic and conditions.
Mercedes-Benz EQS 580 4Matic: range, efficiency, charging
With its massive battery and huge lab-tested range, it is little wonder that the EQS battery only dropped below the halfway mark over a day of driving and shooting. In fact, with roughly half the battery intact, we chose to drive the next day without charging the EQS. Expect a real world range of 650 or 700km plus, depending on how you drive, which, of course, means you can charge once a week and can even manage intercity journeys without range anxiety.
Mercedes also says the EQS 580 will do between 19.6-17.6km per kWh and that's understandable for a car of this weight. When it comes to charging, an 11kW wallbox AC charger can take the battery from 10-80 percent in 10 hours. Step up to a 22kW charger and you can halve this time. A fast 200kW DC charger can manage the 10-80 percent charge in just 31 minutes, but finding one will be difficult.
Mercedes-Benz EQS 580 4Matic: cabin, comfort and tech
EQS owners in India will choose to travel in the rear for the most part, so this is where I choose to ride first. Ingress isn't seamless because of the low roof and you have to duck your head a bit, but once you are on the seat and have adjusted the backrest, this is a seriously comfortable place to spend time. The seats are cooled, the backrest supports you superbly and you have plenty of thigh support, which makes even long stints in the back very comfortable. Still, you are sat lower than in an S-Class, the rear seats aren't as generously proportioned and that feeling of space and separation that a long-wheelbase S provides isn't quite there.
While you do get a Samsung tablet that runs Merc's MBUX in the rear armrest, the EQS at launch also doesn't get the rear entertainment screens or the really cool 'comfort doors' that can open themselves if so instructed. These will be available in six months, according to Mercedes. And despite being reasonably wide, the EQS isn't configured to seat three abreast in comfort. Yes, you can carry a fifth passenger over short distances, but if you really want to experience the best of what the EQS has to offer, use it as a four-seater, with the massive armrest down.
Upfront, there's no getting away from the Hyperscreen and the single curved glass panel. And you wouldn't want to, this just feels so sci-fi and of the future. What's even neater is that Mercedes has managed to make it practical and usable, and that's without it getting overbearing in everyday operation or too bright at night.
While many of the MBUX features are common among higher-end Mercs, features that stand out are the 3D maps, navigation prompts overlaid on video of the road ahead and Merc's zero layer mode that displays new data or information in small windows or tabs; it works a treat.
Other neat features include exterior mirrors that adjust if you stare at them hard. No seriously, face and voice recognition for the driver, which some Bollywood stars are likely to disable, an automatic passenger screen that dims if the driver looks at it (and they work superbly), multiple gesture controls including some to turn reading lights on, fun games like Tetris a la Tesla, an improved "Hey Mercedes" voice prompt you tend to use more and more, and swiping LED warning lights that indicate if you have the traffic coming towards you as you are about to open a door.
Screens and sci-fi features apart, the front seats of the EQS are also extremely comfortable. Large and supportive in just the right places, they are cooled, offer a massage function and are comfortable even when you are stuck in the two-hour traffic jam that we had the misfortune of experiencing.
While the glove box isn't very large, especially for a car of this size, you have a shelf under the floating centre console, a large elbow box, and big door bins. Also impressive is the synthetic leather substitute in many places that looks and feels upmarket.
Mercedes-Benz EQS 580 4Matic: verdict
That the EQS is a massive accomplishment, there is no doubt. Both a proper Mercedes and an EV that pushes back luxury car boundaries, it is a giant leap for Mercedes. The futuristic design makes it stand out, the high-quality cabin has a space-age vibe, it is super comfortable, impossibly refined and is fast and fun to drive. Then, it has a massive 700km range, so range anxiety will be for lesser mortals.
It is very competitively priced at Rs 1.55 crore (electric cars assembled here pay much lower GST) and the EQS comes festooned with features that genuinely delight. You have to take care over speed breakers and it isn't quite an S Class replacement, especially when it comes to rear seat comfort, but the EQS still is a strong contender for the title of the best luxury EV in the world, and that's huge.
Also see:
2022 Mercedes-Benz EQS 580 4Matic video review
from Autocar Indiahttps://cdni.autocarindia.com/ExtraImages/20221007101247_500_6548.jpg