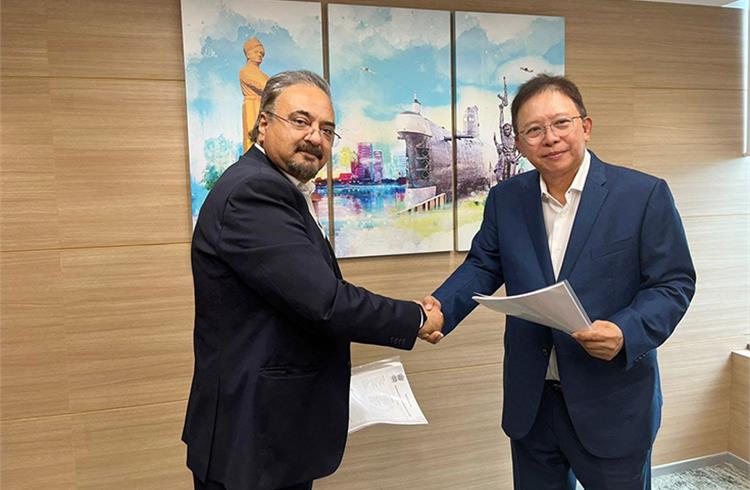 Hero MotoCorp, the world's largest scooter and motorcycle manufacturer, has announced plans to commence operations in the Philippines in partnership with Terrafirma Motors Corporation (TMC). TMC is a part of the Columbian Group of Companies, which is among the leading automotive groups in the Philippines and also represents brands like BMW, Kia, Mazda, Range Rover, Peugeot and Mahindra.
Hero to set up assembly facility spread across 29,000 square metres
This marks Hero's entry into the Southeast Asian market
Hero MotoCorp Philippines expansion: details
Under this joint venture, Terrafirma will assemble and distribute Hero MotoCorp products in the Philippines. The company will set up an assembly facility, spread across 29,000 square metres, in its existing manufacturing facility situated in Laguna. It will start operations in the second half of FY2024 (October 2023-March 2024). This project will mark Hero MotoCorp's entry into the growing Southeast Asian market.
Commenting on the new manufacturing strategy, Sanjay Bhan, head of Global Business, Hero MotoCorp, said, "We are always keenly exploring new opportunities in global markets. The trust and technology prowess of Hero MotoCorp combined with TMC's automotive expertise and network in the Philippines will definitely create an impact and strengthen our footprint in this key market."
As for the product portfolio, expect Hero to offer most of its scooter and motorcycle line-up from India in the Philippines.
Hero MotoCorp, whose global footprint spans across 43 countries in Asia, Africa, Middle East, and South and Central America, has eight manufacturing facilities, including six in India, and one each in Colombia and Bangladesh. It is also also planning to expand to European markets in the future.
Which products do you think Hero MotoCorp will offer in the Philippines? Let us know in the comments.
Also see:
Vida V1 electric scooter review: Late bloomer
Vida V1 electric scooter video review
from Autocar Indiahttps://cdni.autocarindia.com/ExtraImages/20221027124029_1d7a4a9e_a56d_4cf6_a59d_791926400730_Hero%20and%20Philippines.jpg