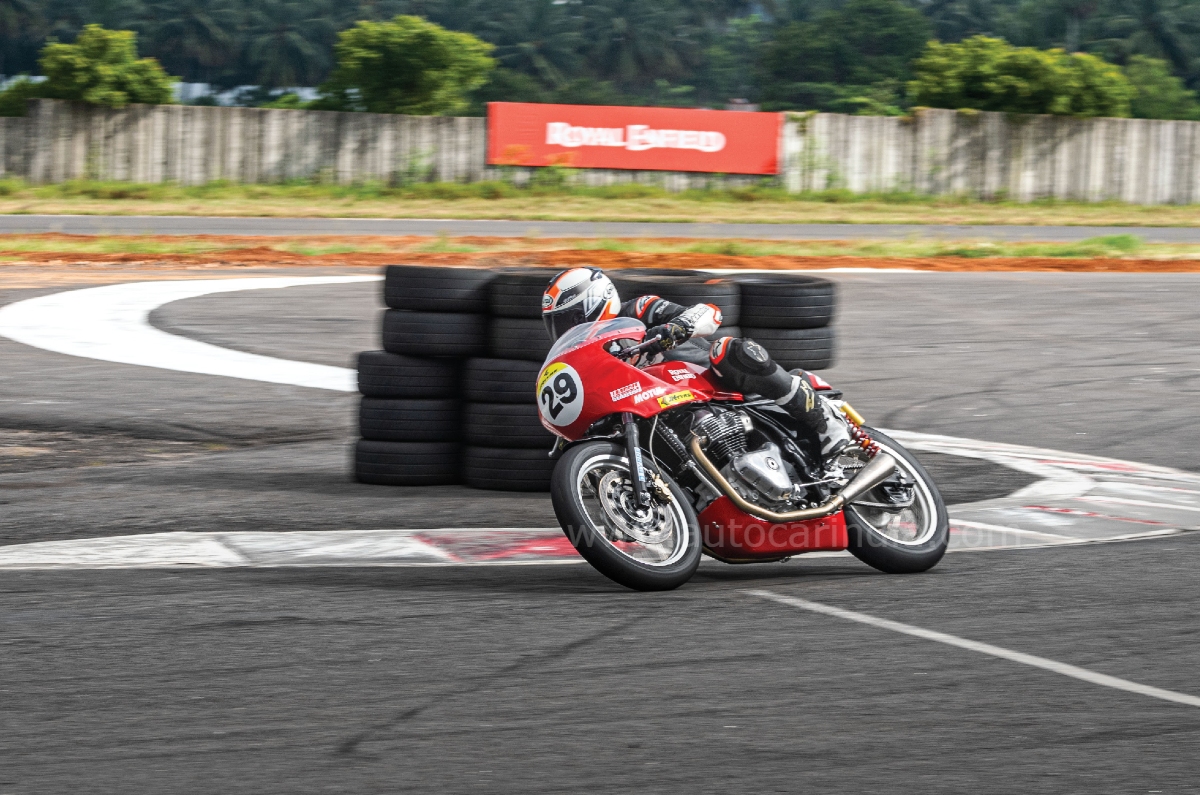 Last year, Royal Enfield announced that they were going to do something that almost no one would have imagined. They decided they wanted to go racing and they were going to do it with a delicious looking race bike based on the Continental GT 650. After a hugely successful first year, Royal Enfield is back for season 2 and they've invited us to try out their updated Continental GT-R 650 race bike.
Lovely aluminium rear-sets by Harris Performance.
Timeless design
Visually, the new bike is identical to last year's machine, with the same gorgeous retro racing fairing and minimal rear section. Like last year's model, it weighs around 25kg less than the stock bike and a big chunk of that comes from the wicked sounding stainless steel exhaust system, which saves 16.5kg. This year's bike will be slightly lighter still, thanks to lovely new aluminium rear-set foot pegs and new clip-on handlebars, both by British-based parts manufacturer, Harris Performance.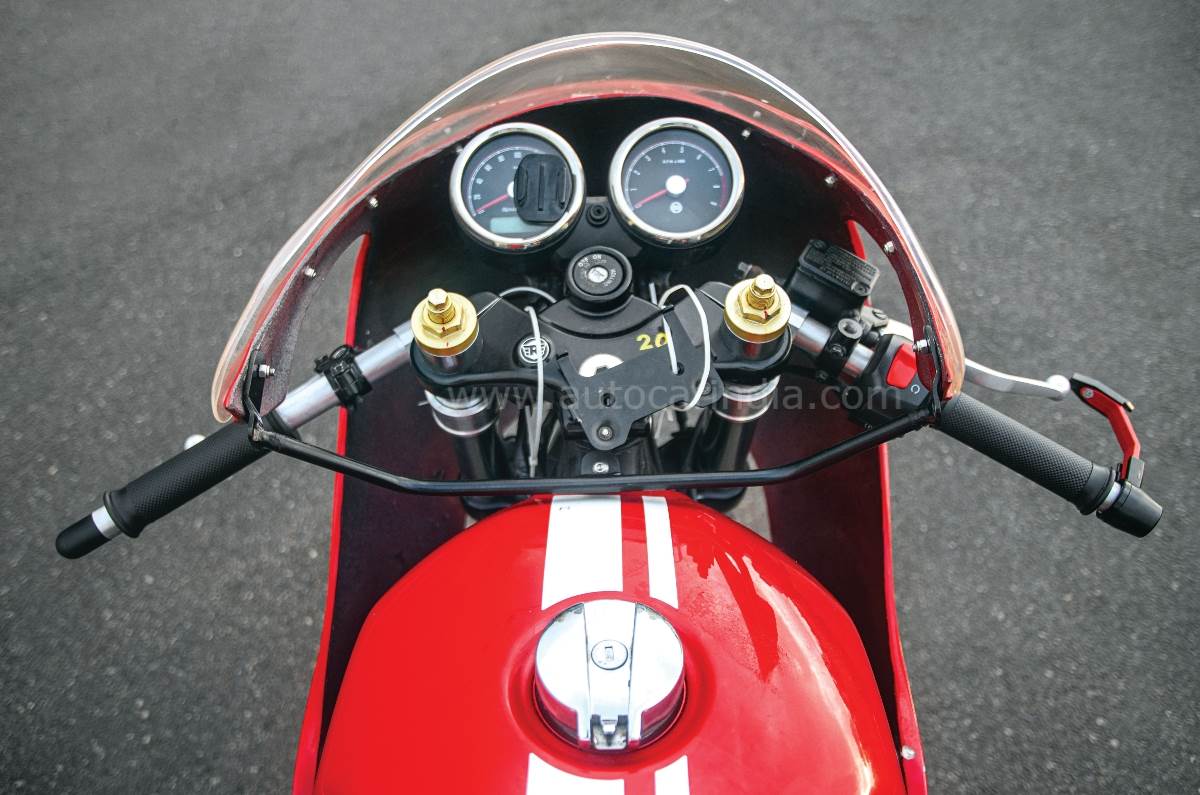 Wider clip-ons this year enable more leverage.
The new foot pegs are still punishingly high up (race bikes don't care about your comfort), but I like the extra leverage you get from the wider, new clip-on handlebars. I had the opportunity to ride the original bike many months back, and this one feels quite similar. Despite the significant weight savings, this is still a 190-odd kilo motorcycle, and you have to respect that.
Challenging handler
Pushing the front into a corner on the brakes needs a lot more consideration and planning because it certainly isn't as easy to change lines mid-corner as it would be on something like a track-spec KTM RC 390 or a TVS RR 310.
On the other hand, this year's race bike has even more cornering clearance, thanks to a redesigned exhaust pipe, and the brakes have improved as well. The front brake caliper now gets heat insulated pistons and there's a more aggressive pad material that does a better job of resisting brake fade over the race.
Soft compound tyres by JK are surprisingly good.
Last year's bikes were running Metzeler Racetec tyres, which were fantastic. This time around, the tyres are by JK Tyre, and on such a heavy, unconventional race bike, having underwhelming tyres can be a serious concern. I got to ride the bike for about half an hour, and while my pace is much lower than what the racers put these bikes through, I thought the tyres were surprisingly good. Perhaps more revealing is the fact that the 1m 18s second lap time set by the fastest riders in Race 1 this year is the same as what they were setting in Round 1 last year. The fastest guys I chatted to at the track told me that there was a grip drop off towards the end of the race, and you can also see more visible signs of wear on the JKs compared to the Metzelers. But for a first attempt, these tyres are superb and the company will experiment with different compounds over the season.
New calipers and brake pads for stronger braking.
Reliable racer
The suspension damping has also been firmed up a bit this year. That, along with the stronger brakes and rippled tarmac (thanks to the race cars) at the braking points for a few corners, was causing a pumping sensation at the fork when going hard on the brakes. I found it mildly unnerving, but the firming up of the damping was something that was needed for just how hard the racers are pushing these bikes.
Where the race bike is very close to stock is when it comes to the engine, with no internal changes. The race exhaust along with an ECU remap has pushed power to a little over 50hp, but the redline is the same as stock. The downside is that you run into that 7,000-odd RPM redline extremely quickly and this is one of the few bikes where I'd have preferred to run a reverse, race-pattern gearshift.
On the upside, the engine retains the rock-solid reliability of the stock bike and there hasn't been a single engine issue through the entire Season 1. In fact, there hasn't been a single DNF yet from a mechanical failure, which is a testament to the rock-solid engineering of the base motorcycle, as well as the quality of work that has been put in by Aspi Bathena and his team who build and run the race bikes. Ultimately, the Continental GT-R 650 is an oddity in the world of racing. It is capable of setting some seriously quick lap times in the right hands, but it will never be as quick as a conventional race bike. Then again, that's not the point, and this bike does two things really well – it proves just how capable and reliable the 650 platform is and brings a whole new level of cool factor into 650 ownership.
from Autocar Indiahttps://cdni.autocarindia.com/ExtraImages/20221019123951_RE%20GT_R%20feature%201.jpg