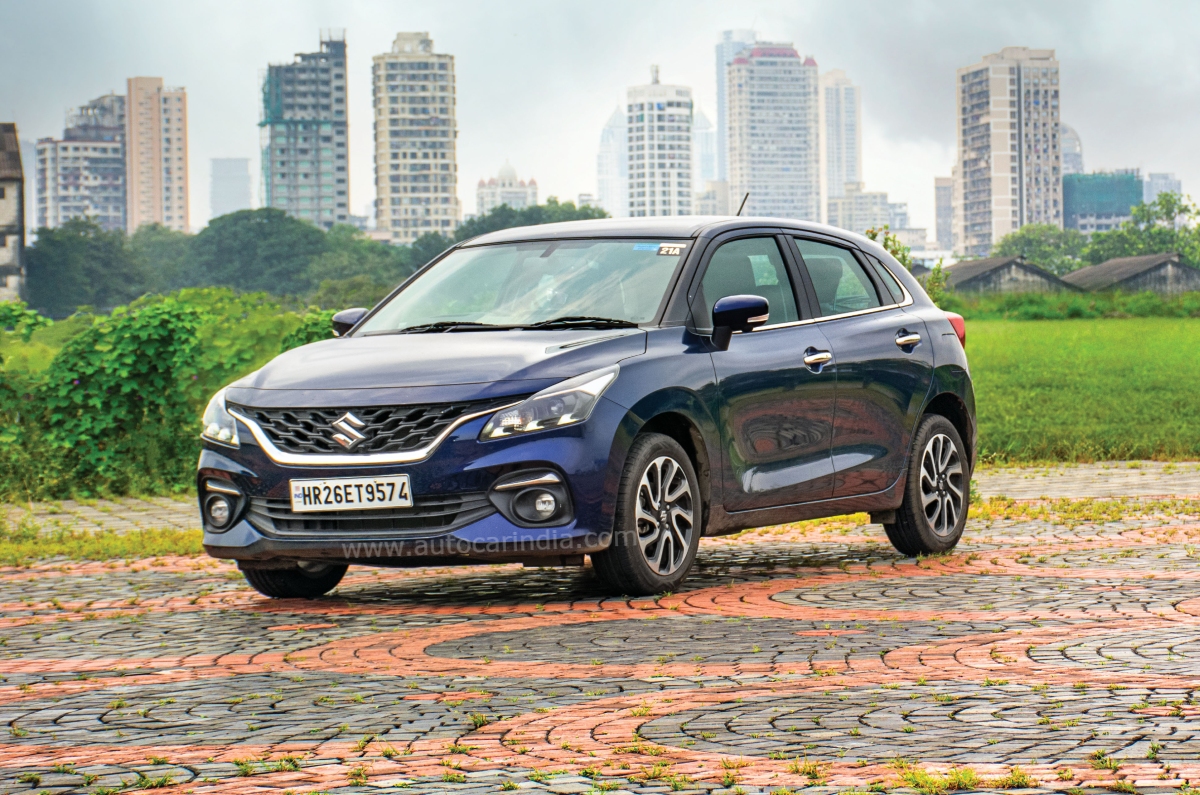 An AMT gearbox is what every staunch car enthusiast loathes. Right up until the point where they have to drive in Mumbai's peak hour traffic. So, having the new Baleno in AMT guise was nothing but perfect. It is compact, has no work for the left foot, and is a Maruti, so good efficiency is a given.
Choc-a-bloc traffic is all the Baleno has witnessed so far.
Now, here's the thing, in peak hour bumper-to-bumper traffic, the AMT is a boon to have. It crawls ahead gradually with little stress to your left foot. However, on the rare occasions where the traffic thins out and you can wring the superbly refined petrol engine, it will only remind you that an AMT is good for convenience only.
Every time I found a gap in the chaos, I was left wanting more. There is a manual mode, but I seldom found myself resorting to shifting on my own. The main reason for that is the shift speed. The gearbox, even if worked manually, takes its own time and, as a result, you end up giving up and switching back to 'D'. Relaxed driving is what it does best, and after multiple failed attempts at trying to eke out performance, that's exactly what I did too.
Superb top-end response once you wring its neck.
The 90hp petrol engine is quite nice though. If you manage to ignore the slow gearbox, the Baleno has strong top-end performance that yearns to be explored. It didn't happen a lot, but there were occasions I wished it was a good ol' manual. But the bit I was most excited about was the efficiency, which in any Maruti Suzuki hatchback is class-best. In mixed driving conditions, of which a majority was in the city and once in a while late night drives with less traffic, it easily returned between 12-13kpl. Sure, a manual would be a lot better, but I'd happily give away a couple of kpl for that relaxed left foot.
Good resolution helps with parking the Baleno in tricky spots.
The other big positive of the Baleno is the 360-degree camera. It's a segment-first feature that comes in handy each time you park the car. What also helps is its placement and low-light performance, especially in the monsoons. The placement of the cameras seems to be ideal for them to avoid muck and splatter, and visibility is quite good with the multiple angles.
However, what wasn't so good – and a bit strange – was the Suzuki Assistant that kept popping up randomly without any inputs. I'm sure it is a minor glitch, but it did get annoying each time it interrupted the music. Hopefully, a fix is only a matter of a software update. The audio quality on the Baleno also deserves a mention. The 6-speaker Arkamys tuned system sounds very good and gives you plenty of customisation options as well. It comes loaded with three basic presets – Natural, Acoustic and Dynamic – and they all sound good.
Suzuki Assistant randomly initiates without input.
That said, I wish the cabin insulation would have been better, as you can hear a fair amount of the outside chaos in rush hour traffic. Maruti's lightweighting has likely taken away some handy insulation. The other bit that's again a segment-first is the head-up display, and while it is vibrant and packed with all the info you would need, the tint for the glass is a shade too dark, which, in crawling traffic, does interrupt your vision. I often found myself trying to look over and around it to get a clearer view rather than looking through it.
Superb top-end response once you wring its neck.
These small niggles aside, the Baleno is the perfect city runabout. The light steering, soft seats, supple suspension and just the ease of driving make it a superb package. It gets all the features one needs for the daily grind and makes light work of the rather mundane and stressful drive to and fro work.
A trip out of the city is the next agenda, as that should give a better idea about its highway manners and boot capabilities. That said, the Baleno has maintained what I have always felt about hatchbacks. It is the perfect body style for the city and it is only when you use it as a daily driver do you realise the ease they bring along. Now, if I can only hold onto it for long enough, without having to swap it for an SUV. Isn't that what everyone seems to be doing nowadays?
Also see:

2022 Maruti Suzuki Baleno review: More than meets the eye
from Autocar India - All Car Reviews https://ift.tt/2uE8gpA
https://ift.tt/XYcfRB2