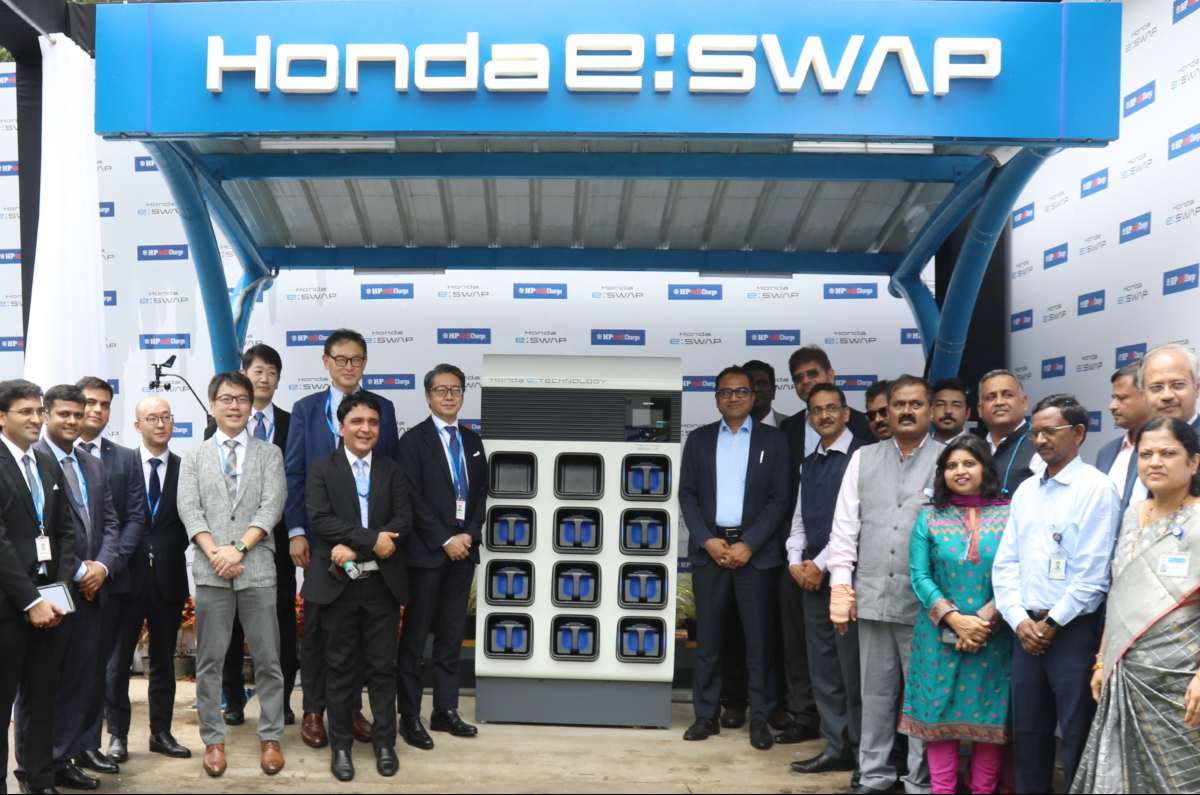 Honda Power Pack Energy India (HEID) – Honda Motor Co's subsidiary for battery swap service – and Hindustan Petroleum Corporation Ltd (HPCL), have commenced Honda e:swap services from August 6, in Bengaluru, operated by HEID at HPCL petrol stations.
In November 2021, HEID was established to begin battery swapping service in India starting with electric auto rickshaws. HEID's battery swap service will enable rickshaw drivers to stop at the nearest battery stations, being set-up across selected cities, and swap discharged batteries (Honda Mobile Power Pack e:) with fully charged ones. The use of this service will significantly reduce drivers' initial cost to purchase EV as well as reducing concern about range anxiety and running out of batteries.
HEID has already set up its battery exchanger (Honda Power Pack Exchanger e:) at strategic locations among HPCL's retail outlets in Bengaluru, and has initially started operation for electric auto rickshaws which applies Honda Mobile Power Pack e:.
HEID plans to create a battery swap network with more than 70 stations in Bengaluru in 12 months. Furthermore, based on the success in Bengaluru city, the service will be expanded to other major cities in a phased manner.
Kiyoshi Ito, president and CMD, Honda Power Pack Energy India, said that HEID would focus on three actions, which are expanding its battery swap network in Bengaluru, ensuring the reliable service with a highly integrated system monitoring every unique battery and exchanger, and supporting vehicle manufacturers who are developing EVs that utilise Honda Mobile Power Pack e:.
Sandeep Maheshwari, executive director-Retail, HPCL, said that HPCL is committed to accelerate India's transition to greener energy. "We are one of the biggest charge point operators in the country with 1,058 EV charging stations at our retail outlets across the country. Today, we are launching a partnership with HEID. HPCL and HEID e:swap stations will make swapping batteries a breeze for e-auto rickshaws at Bengaluru. Swappable batteries address the key EV adoption issues such as high upfront costs, range anxiety and long charging time. Over 90% of the country's vehicle sales are of two- and three-wheelers.
The simplicity of vehicle design and the smaller battery packs needed to power the electric versions of two- and three-wheelers makes them a prime candidate for swapping. While Honda brings best-in-class technology to e:swap, HPCL with its 20,000+ retail outlets in the country and huge presence in all cities, will ensure scalability and smooth operations."
Would you like to see battery swapping centres across the nation? Let us know in the comments.
from Autocar Indiahttps://cdni.autocarindia.com/ExtraImages/20220809052946_Honda_battery_2.jpg