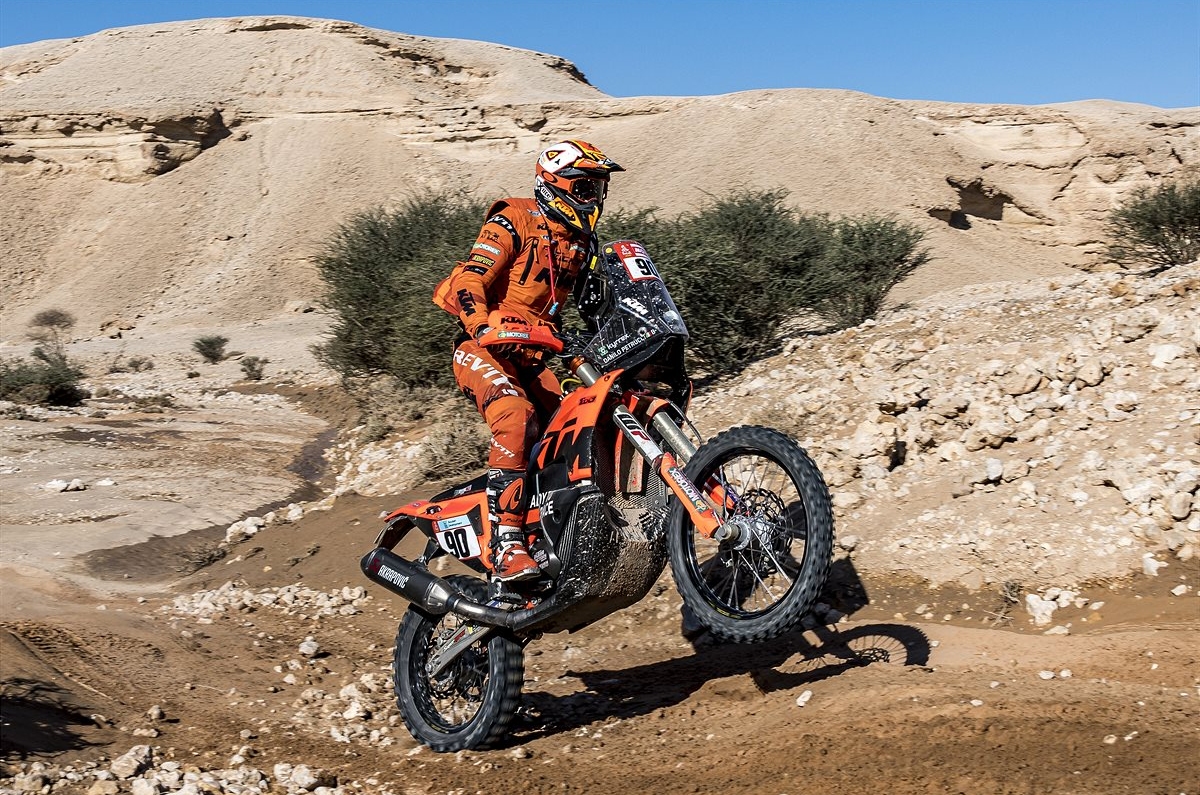 Stage 5 of the 2022 Dakar Rally required participants to navigate rocky terrain and long dune sections, but was cut short due to the medical aircraft being unavailable.
Representing India, Hero MotoSports' two riders are now in the overall top 20, while Harith Noah also moved up a place to 30th overall, despite nursing an injury. The big surprise of the stage was former MotoGP rider Danilo Petrucci being declared the winner after KTM's Toby Price was handed a penalty for speeding.
Lategan wins in cars category
Sam Sunderland, Nasser Al-Attiyah lead overall order
Both Hero MotoSports riders in top 20
It was a tough day for Joaquim Rodrigues, who suffered two crashes and hurt his back in the process. But he soldiered on to not only finish the stage, but also came 19th. This sees him climb to 20th in the overall order.
Aaron Mare lost some time after making a small navigation error. But the South African rider says he felt a lot more comfortable on the bike after some changes in the suspension settings. He finished the stage in 24th position, taking him to 17th place overall.
Harith Noah 30th overall
Noah took a hard hit to his shoulder in the previous stage and he's going to have to nurse this injury till the end, with over half the rally still to go. Nevertheless, the Indian rider says his "shoulder is doing better" than he thought.
He approached Stage 5 more cautiously and finished 28th, which has helped him slot into 30th place overall.
Petrucci, Lategan win Stage 5
It was Toby Price who initially set the fastest time, 14 seconds ahead of Petrucci. However, the KTM rider was handed a six-minute penalty for speeding, dropping him to fifth place, and Petrucci inherited the win. The former MotoGP rider has enjoyed a rather strong start to his rally-raid career. However, he's out of contention for overall victory following his Stage 2 retirement. He was allowed to rejoin the rally to fight for individual stage wins, but heavy penalties left him all the way down in 129th place overall.
GasGas rider Sam Sunderland is still at the top of the leaderboard, with a 2 minutes 29 seconds lead on KTM rider Matthias Walkner.
Toyota's Henk Lategan won in the cars category, despite having to drive with the door open over most of the stage. But it is his teammate, Nasser Al-Attiyah, who continues leading in the overall order. The gap between him and his closest rival Sebastien Loeb is just over 35 minutes.
Also see:
Dakar 2022: Hero MotoSports, Joaquim Rodrigues win Stage 3
https://ift.tt/3zx0gwW