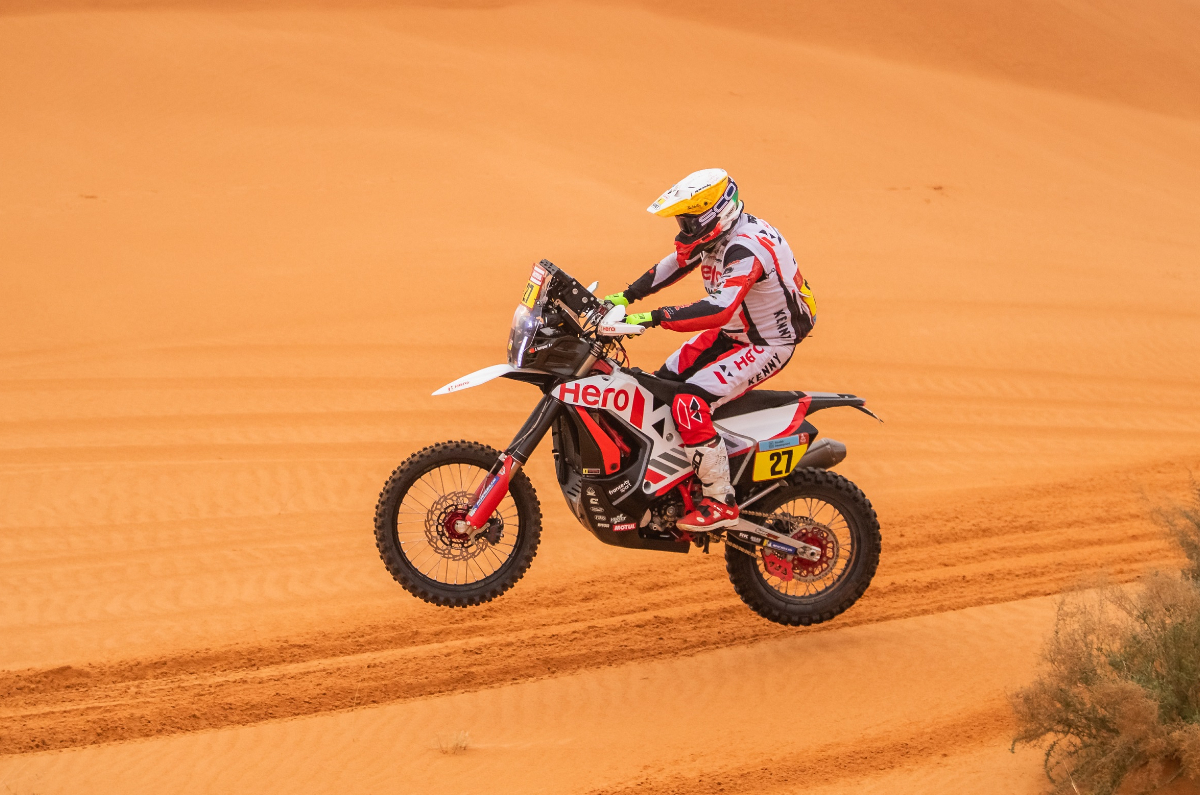 Hero MotoSports had plenty to celebrate after Stage 3 of the 2022 Dakar Rally, with Joaquim Rodrigues handing the team their first ever Dakar stage win. This is the first time that an Indian team has achieved this feat – the Sherco TVS Rally Factory Team has won Dakar stages in the past, but was operated as an Indo-French outfit.
Rainfall continued to hinder the planned route and the stage had to be reduced to a 255km special featuring both wet sand and chains of dunes.
Aaron Mare and Joaquim Rodrigues stand 10th and 17th overall
Sam Sunderland leads in bikes category
Nasser Al-Attiyah leads in cars category as Loeb runs into trouble
Joaquim Rodrigues wins Stage 3
Rodrigues has been in recovery mode after running into navigation trouble in the opening stage. In Stage 3, he took the lead after the 218-km mark and managed to set the best time. This is also Rodrigues' maiden Dakar stage win – the Portuguese rider has been part of Hero MotoSports since the team's inception in 2016.
"I'm extremely happy with how my day has turned out. Even though the stage was really fast, with a lot of difficulty around alternating dunes and tracks, I was able to push hard right from the very first kilometre," Rodrigues rejoiced.
He further said, "The Hero Rally 450 has been performing extremely well, and I'm happy that our great combination has helped bring home the first stage win at the Dakar. Thank you Hero MotoSports for all the effort they have invested in me, and for putting me through a large number of races this year – this has definitely boosted my confidence by leaps and bounds." The victory boosts Rodrigues to 17th overall.
His teammate Aaron Mare put in a consistent performance to remain in the overall top 10. An 18th place finish in the stage means he currently stands 10th overall.
Harith Noah 31st overall
Harith Noah continued making steady progress. The only Indian rider competing this year finished Stage 3 in 29th place, as he continues gaining confidence on his new TVS Sherco 450 SEF Rally bike.
He's gained a place in the general classification and is up to 31st overall.
Sainz wins Stage 3 for Audi
GasGas rider Sam Sunderland holds on to the overall lead in the bikes category, but the gap between him and second-placed Adrien van Beveren (Yamaha) is just four seconds.
Carlos Sainz made history of his own after winning Stage 3 for Audi, with this being the first Dakar stage win for an electric car. This is also the three-time Dakar champion's 40th stage win.
Making their Dakar debut this year, Audi has entered the RS Q e-tron in the new T1 Ultimate class. The electric prototype uses three electric motors, with a DTM-sourced petrol engine serving as a power source to charge the batteries.
Toyota's Nasser Al-Attiyah continues to lead in the cars category, despite finishing eighth in the stage. This was largely due to troubles faced by his nearest rival, Sebastien Loeb (Bahrain Raid Xtreme).
Loeb finished the stage over 33 minutes behind Sainz, as he suffered a broken longitudinal transmission and multiple punctures on his Prodrive-built Hunter prototype. He ended up making it to the finish line on two-wheel drive.
Also see:
Dakar 2022: Hero MotoSports, Harith Noah climb up the order in Stage 2
https://ift.tt/31wMFJu