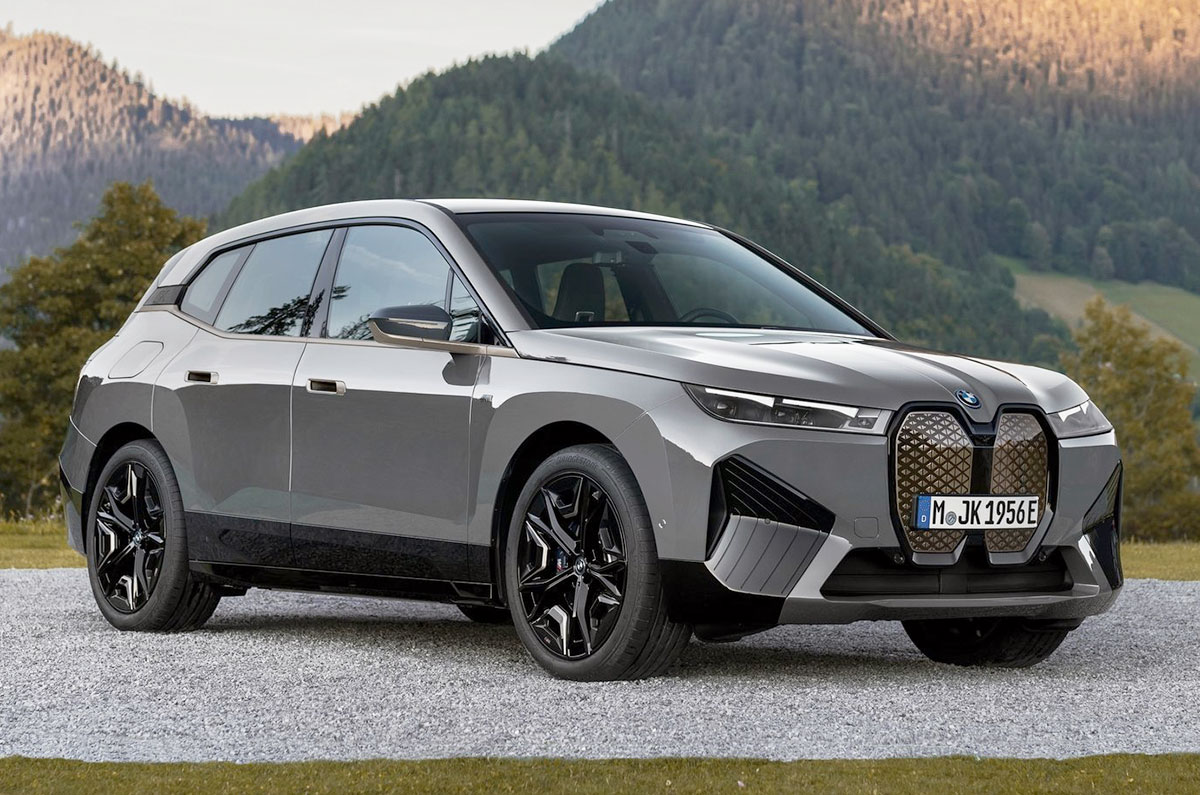 While BMW M's bespoke XM performance SUV is still some time away, the carmaker has now revealed its most powerful EV yet – the 619hp iX M60. The third variant of the carmaker's born-electric iX, the iX M60, is BMW's second M Performance electric vehicle following the i4 M50 sedan revealed last year.
iX M60 develops upto 620hp and 1,100Nm of torque
Hits 0-100kph in a claimed 3.9 seconds
Gets a claimed range of 575km in a single charge
BMW iX M60: cosmetic changes from the standard iX
BMW has taken a different approach with its electric M cars by making them less visually distinct from their standard siblings and exploring new ways for them to stand out.
The M60 uses an aluminium space frame and a carbon cage with carbon fibre-reinforced plastic in the roof, side and rear sections – first used on the 2003 BMW M3 CSL. The exterior gets blue M-branded brake calipers and M logos finished in gloss black and titanium bronze on the front, side panels and rear. The M60 also sits on larger alloy wheels than the regular iX.
Inside, it has the same lightly curved display as the other iX models, running BMW's eighth-generation iDrive operating system, with a focus on touch functions and voice communication. With no centre console, the controls, including the iDrive rotary controller, are set within the forward section of a high-mounted armrest.
Its spacious interior uses FSC-certified wood, leather tanned with olive leaf extract and other natural materials. Recycled fishing nets are among the raw materials used for floor coverings and mats.
BMW iX M60: range and performance
The new iX M60 is BMW's most powerful electric car yet, with the all-wheel drive electric powertrain developing up to 619hp and 1,100Nm of torque. BMW says the SUV develops 540hp and 1,015Nm of torque during standard driving, with the numbers temporarily boosted in Sport mode with launch control activated.
BMW claims a 0-100kph time of 3.9sec – 0.7 seconds faster than the iX xDrive 50 – with top speed limited to 249kph. Compared to the iX xDrive 40 on sale in India, power is up a notable 294hp and 470Nm.
The added power and torque does mean some range is sacrificed, with the iX M60 offering up to 575km of driving on a full charge, as compared to the xDrive 50's 611km.
The Tesla Model X and Audi e-tron S rival features electric all-wheel drive, an actuator-based wheel-slip limitation function and M-tuned dual-axle air suspension with automatic level control – all of which "ensure hallmark M driving experience, agility and precision," BMW claims.
"If you look at the M60, there's not a great difference with the exterior [versus the iX] and there's not such a great difference in acceleration because all electric cars have good acceleration so we have to look differently," Johann Kistler, iX project director, said.
"But, we want to offer a top-end powertrain and therefore, decided to make a small differentiation. If you look at the M5, it should have a different exterior to the four-cylinder [5 Series] so it's really seen, but with BEVs, we've done a lot of finer differentiation, beginning with the sound," he added. "It has a different start-up sound, a different shutdown sound, and different sounds while driving. There is also a different look and feel from displays and a different colour on the wheels to give the sense of a different, high-speed performance car."
BMW's plans for India
BMW launched the all-electric iX in December, with the SUV priced at Rs 1.16 crore (ex-showroom). The Jaguar I-Pace and Audi e-tron rival is available in its base xDrive 40 spec offering up to 425km claimed range.
The carmaker is looking to further bolster its EV range with the introduction of the all-electric i4 sedan in the coming months, with sister firm Mini set to launch the all-electric Mini SE as well. Bookings for the latter are already open.
Coming to the iX M60, the performance-focused SUV could be launched in India in the future to appeal to buyers wanting stronger performance.
Do you think BMW should bring the iX M60 to India? Let us know in the comments section.
https://ift.tt/3mZcpWb