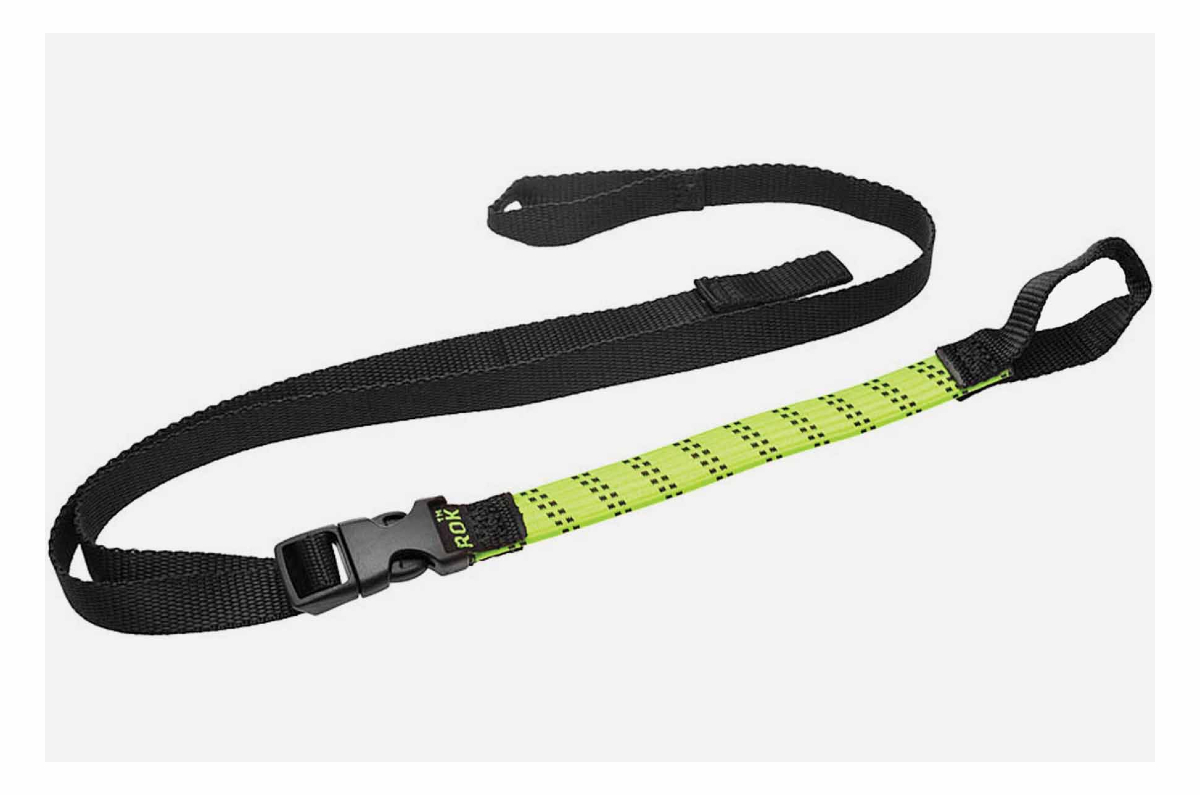 Rok Straps are an Australian product designed to eradicate the inherent dangers of bungee cords, where failures can result in nasty injury. The company makes numerous products, but its strap range is designed specifically around motorcycles and ATVs.
Unlike a bungee cord, the Rok Strap is flat and it is split into two parts, both of which need to be anchored to the bike. One strap is shorter and it consists of the coloured elasticated section while
the other holds the majority of the strap's length. Each part has an eyelet sewed in on the end and you simply need to loop the strap through this to anchor it to the bike. The straps link to each other via a snap-fit buckle which can then be used to adjust the slack and tighten the straps over your luggage.
The ability to adjust the length is one of the advantages over a bungee cord where you have to spend some time figuring out the direction of looping the cord to get the right level of tension. What's far nicer about using the Rok Straps over bungees is just how well you can tighten them over your bags. The elasticated section can stretch up to a maximum of 50 percent of its length and you can cinch the straps down by pulling on the excess from the longer strap. The buckle ensures that the strap will only tighten and you need to lift it upwards to release the tension.
The large straps are strength rated for loads of up to 45 kilos.
Rok Straps are available in a number of colours and also sold under licence by many different luggage and accessory brands. Different sizes are available and I bought the largest that can stretch up to 5 feet. They're sold in pairs and the large straps are rated to safely handle a load of up to 45kg – far more than most would carry on a tour. I used them as a fail safe over my Kriega bags on a 3,000km round trip and they worked beautifully.
They're very easy to use once you understand how they work and I never found that they released the tension or needed readjustment even after 13-hour days of riding. They're certainly more expensive than bungee cords – even the high quality ones – but having used them, I don't think I'll ever use a bungee cord again.
Where: www.lazyassbikers.com
Price: Rs 1,900
https://ift.tt/3qBvz5v